The Advocacy Center for the Children of El Paso has launched a program for area children in Pre-Kindergarten thru 1st Grade (4-7 year old) called "Happy Bear". It is an innovative practical personal safety program designed to teach and reinforce the three R's of safety: RECOGNIZE, RESIST, and REPORT; it also covers the topic of bullying and what children should do in case they are faced in that situation. The program is a 20 minute interactive play performed by facilitator and costumed volunteer (Happy Bear), usually done for groups of about 30 children. The play delights and informs young learners about basiscs of recognizing, resisiting, and reporting abuse. The curriculum activities build upon these concepts, and include: identifiying welcome and unwelcome touches, naming body parts (including private parts) demonstrating basic resistnace skills, recognizing personal safety zones/personal space, and identifying people to tell.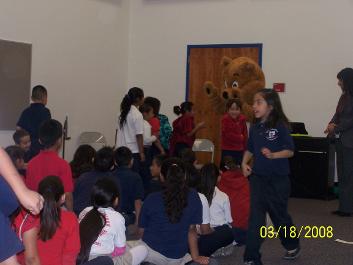 If you would like more information about "Happy Bear" or are interested in scheduling a presentation please contact the Advocacy Center for the Children of El Paso at (915)545-5400
Advocacy Center for the Children of El Paso
1100 E.Cliff, Bldg D.
El Paso, TX 79902
(915) 545-5400
2014